MASS SCHEDULE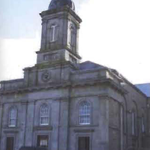 Weekday Mass: 10am Mon to Fri
Sunday Mass: Sat vigil 6.30pm.  Sunday 8.30am 11.30am & 7pm
Adoration Holy Hour
Tuesday, Friday & Sunday 3 to 4pm.
Rosary daily after 10am Mass.
Public Welcome and please follow the guidance of our Stewards and follow the protocols to safeguard each other.
Relay Service
Mass and other services are relayed daily from the church. A special receiver can be obtained for this through the parish office.
History of the Church
650-1216 (Inber De) Arklow part of the Diocese of Glendalough
1216 Diocese of Glendalough and Dublin united
1264 Foundation of the Dominican Priory of Holy Cross on grant from Theobald Butler 4th
1279 Arklow Parish Church dedicated to St. Mary
1473 Boundaries of Parish established
1541 Suppression of Priory of Holy Cross
1630 Mass House erected at Ballyraine
1745 Public Catholic Chapel on II "Chapel Grounds"
1798 Chapels at "Chapel Grounds", Castletown & Johnstown burned by Yeomen (more below)
1803 Chapels erected on parade Grounds (existing site), Johnstown & Castletown
1861 Dedication by Paul Cardinal Cullen, Archbishop of Dublin, of Parish Church Sts. Mary & Peter
1974 Castletown parish constituted from Arklow
1993 Re-ordering of Sanctuary of Parish Church
2000 Parish Church is one of 12 churches designated as a Church of Pilgrimage for the Jubilee Year
2003 Opening of Arus Lorcain by Desmond Cardinal Connell
2011 150th Jubliee of Church
Our Church
On the slope of the hill our Church stands,
A monument to God and the faith of Ireland.
Built by our fathers in days of yore,
A house of prayer there we adore.
The loving Saviour that for us died,
Crucified at Calvary on a cross raised high.
To our Church we were brought at life's dawn,
For the shepherd the lamb to fold
In the mantle of our mother
At the font of faith enrolled.
And at its altar we were made one for ever.
In the presence of the Eucharistic King
Two hearts joined together
with God's blessing on a gold ring.
When the grim reaper gathers his harvest,
And grinds the grain of life in his mill
We will pay our last visit,
To our Church on the slope of the hill.