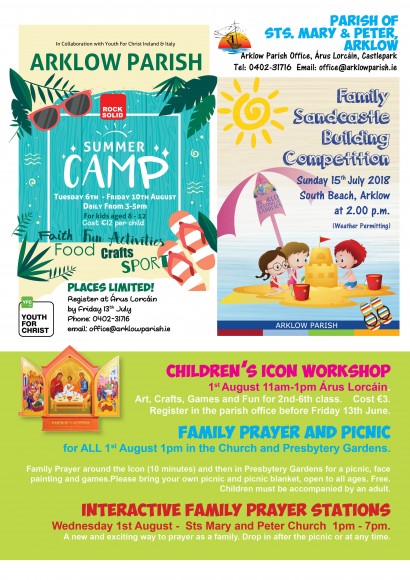 WMOF 2018 Parish News
The WMOF Icon comes to Arklow
Arklow has been chosen as one of the
parishes in Ireland to host the The Icon of the Holy Family specially commissioned for WMOF 2018.   The Icon will be in Sts Mary and Peter's Church from 30th July – 2nd August.
We will be holding many services and events to celebrate this wonderful occasion.
Calendar of Events and Services for the Visitation of the Icon
Monday 30th July - Welcome of WMOF Icon to Arklow Our Christian Family: Ecumenical Service of Prayer and Music 7.30pm in Sts. Mary and Peter' Church.   All are welcome. Refreshments after in Árus Lorcáin
Tuesday 31st July: Parishes as Family Inviting all our sister parishes from our grouping and parishes where members of the parish team have ministered. Mass 11am. Fr John Hayes will explain the Images in the WMOF Icon. Refreshments in Árus Lorcáin after Mass. NO 10am Mass.
Meditation and Music with Cruinniú, around the Icon.
7pm -8.00pm A time of reflection on family and family life. Suitable for all ages.    8.00pm-10.00pm Quiet time to drop in light a candle and pray for you family intentions.
Wednesday 1st August
Caring for the Sick and elderly in our Families.
The Sacrament of the Anointing of the Sick will be administered at 10 a.m.   Mass. Please invite and bring family members or neighbours who are sick, housebound or growing older in age. Refreshments in Arus Lorcain after.
Children's Icon Workshop 2nd-6th class.
Family Prayer and Picnic for ALL 1pm in the church and after in Presbytery Gardens.
Interactive Family Prayer Stations 1pm – 7pm. Suitable for all ages.
Thursday 2nd August: Handing over of Icon to next parish 10am Mass.
A Petition Box accompanies the Icon. Our petitions will be carried to the closing Mass with Pope Francis in Phoenix Park.