Upcoming Events
Family Sandcastle Building Competition:
South Beach, Arklow – Sunday 15th July, 2018 (weather permitting)
Children's Icon Workshop
Art, games and prayer Wednesday 1st August 11am-1pm in Árus Lorcáin.
Please register in the parish office. Closing date Friday 13th July.
Cost €3  and numbers are limited.
2nd class – 6th class. | Jnr Infant – 1st class children welcome with a parent /guardian.
Parish Art and Poetry Competition – Closing Date 6th June 2018
Children and young people are participating in different art projects and poetry writing through their school on the theme of family. Please chat to them at home about their entry.
WMOF – Art and Poetry competition open to all school going children.
ART – 4th class and post primary: Picture using any medium in an Andy Warhol style . MY FAMILY. What reminds you of your Family. A3 size (Photo)
POETRY -4th class up to 6th year post primary  – MY FAMILY No more than 50 words, written electronically, font size 16, any style, A4.
PROJECT ON POPE FRANCIS 2nd-3rd class Project on Pope Francis or Letter to Pope Francis -"What would you ask Pope Francis?"
Flat Francis Project for JI, SI 1st class or any family in the parish. Take Flat Francis with you on your family adventures, take photos and pray the Popes intentions as a family.
For further information on all competitions please see below: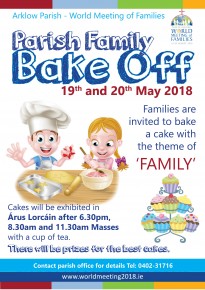 Presentation
Presentation of certificates for St Patrick's Day Parade and Guess the number of Sweets in the Jar.
Sunday 28th April 6.30pm Family Mass
Come along to our FAMILY BINGO in Arus Lorcain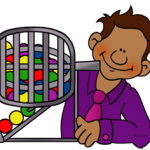 on Sunday 15th April at 3p.m.
This will be a fun afternoon for all the family with lots
of novelty prizes and refreshments.
(no cash prizes – just a bit of fun!)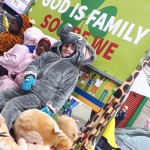 World Meeting of Families and the
St Patrick's Day Parade.

Congratulations to all who prepared the float, all the biblical characters,those who dressed them,the parish WMOF volunteers who walked in the parade and  Michael for pulling the float. The day was ARTIC but we had FUN.  Thank you to Hilary and team for the soup and sandwiches in the Arus after, we soon began to defrost!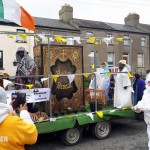 A special thank you to the guys in Blueprint for the wonderful 3D Bible and all the printing work.
Thanks to Ray Quigley for all the costumes, Michael Kavanagh for the trailer and car and the office staff in the Arus. There was great team work which led to the parish winning best non commercial float.
Click here for the official World Meeting of Families website